Christmas Banquet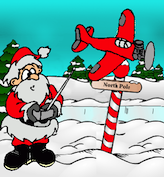 Make plans to join us on Friday, December 15 for our annual Christmas Banquet.
We're once again holding it at the Summit Station Lions Club, 7600 Summit Rd SW. Take Summit Rd south off of Broad St.
Come at 6. Dinner will be at 6:30 pm. The meal will be catered by City BBQ. BYOB, but the club will have some soft drinks available. Steve will be sending out an e-vite so watch your email and RSVP by Friday December1st.
Don't forget to bring your recent project to share with the group. We will be giving away prizes for the best static show plane/heli/multirotor. We will also be raffling off several gift cards to Cyclone Hobbies and Bath & Body Works.
2017 Officer Elections
It's time once again to elect several club officers.
Three positions, vice president and two trustees, are open.
Please join us at City Barbecue, 5979 E Main St, Columbus, OH 43213 at 7pm. Only members in good standing can vote.
Federal Registration Is Back On The Table

Congress recently finalized the National Defense Authorization Act (NDAA) that restores the FAA's registration requirement. So once again, all aircraft weighing more than 0.55 lbs (or 250 grams) will soon need to display registration numbers, and all pilots will be required to register with the FAA in order to be in compliance with the law. 
This bill reverses an earlier U.S. Court of Appeals decision that temporarily removed the registration requirement.
Please see the this AMA Article for more information.
Please Remember Our Good Neighbor Policy
There are times when Red our landlord hosts events on his property. On some of these occasions he would like us not to fly during the event. We try to send out emails to let everyone know in a timely matter but sometimes either members don't get them in time, forget or possibly don't care.
In the future to prevent further confusion, when Red requests that we don't fly during an event, We will block off the driveway to the field and post a notice to the website during this time. This along with the long standing request that we keep vehicles on the gravel driveway and off the surrounding grassy areas should hopefully help get the message out when the field is closed.
We will continue to try and send out notice of these events ahead of time. I know nothing is worse than loading up the truck and driving all the way out, only to find the field closed. Well, perhaps it's better than not having a field to go to at all.
Please honor Red's simple request and help us maintain the good relationship we have with our landlord.